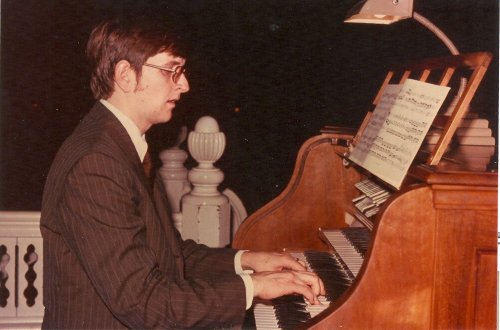 Selected Compositions
Most of my pieces listed below have links to downloadable PDFs. I hope you enjoy playing them—either from your own printed copies or from your favorite electronic music device. (My current favorite electronic device is the forScore app on my large iPad.)
A significant number contain revisions from the original versions published in paper format.
Nine Meditations on Christmas Carols for Organ (Orem, UT: Wellspring Music, 2010)
Award-Winning Preludes on Hymn Tunes for Organ (Orem, UT: Wellspring Music, 1994)
More Preludes for Organ
Other Compositions
Come unto Me, for chorus SATB (Honorable mention, 1992 Church Music Contest).
Carol of the Little Donkey, for chorus SATB (Minneapolis, MN: Art Masters Studios, 1996).
God Bless Our Prophet Dear, for chorus SSA and keyboard, with cello obbligato (performed March 30, 1996).
Come, Thou Fount of Every Blessing, for chorus SATB (version 4, 2020).
2019 Hymn Tunes
Hymn Adaptations for Organ
Other Music
Books
Articles
"Beethoven's Organ Trios: Authentic or Spurious?" Diapason 68 (July 1977) 1, 8-10.
"The L.D.S. Hymnal, Views on Foreign Editions: The Japanese Hymnal." Dialogue: A Journal of Mormon Thought 10 (Spring 1975/76) 53-54.
Awards/Prizes
1968: First place, Ricks College hymn writing contest: "O Jesus, Crowned with Glory."
1973: de Jong Organ Award, Department of Music, Brigham Young University
Church Music Contest, The Church of Jesus Christ of Latter-day Saints:
Employment/Other Musical Activities
1973-76: Graduate (teaching) assistantships in music theory and comprehensive musicianship, organ pedagogy, musicology, and library acquisitions (music), Brigham Young University, Provo, UT
1974: Music engraver, Sonos Music Resources, Orem, UT
1977: Intern, Music Library, University of Illinois, Urbana-Champaign
1977-81: Music Cataloger, University Libraries, University of Nebraska-Lincoln
1978-83: Suzuki piano teacher (private studio), Lincoln, NE. Faculty member at semi-annual Suzuki Piano Workshops sponsored by the School of Music at the University of Nebraska-Lincoln
1994-present: Founder, Wellspring Music, Orem, UT
1996-2003: Member, General Music Committee, The Church of Jesus Christ of Latter-day Saints
Music Education
Brigham Young University, Provo, UT (B.A. music theory, 1973; M.A., musicology, organ, 1976)
Master's Thesis: Beethoven's Organ Works (1976)
University of Illinois, Urbana-Champaign (M.S., library science, 1977)
Miscellaneous